Este informe no está disponible en español.
THE NEW YORK TIMES MAGAZINE
FASHIONS OF THE TIMES - TROPICAL PUNCH
Fiesta Wear!
It's time to take a break from monochromatic shirts and ties and head for Puerto Rico, where the salsa and merengue rip full tilt until dawn.
Photographs by BEN WATTS
Styled by ROBERT E. BRYAN
March 18, 2001
Copyright 2001 ©THE NEW YORK TIMES. All Rights Reserved.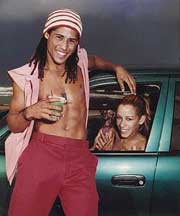 _______________
Milano Miranda, 20, a student at the University of Puerto Rico and a member of its tennis team, was hanging out with his classmate Alba and her dog, Ricky, in the parking lot of a club called Soleil. ''I don't go out with any guy Ricky doesn't like,'' Alba says. If Ricky doesn't like Miranda's textured stretch-nylon shirt, $295, and cotton twill pants, $285, that Chihuahua has no taste. At Calvin Klein, 654 Madison Avenue. Hat, Kangol.
_______________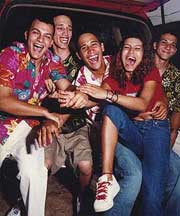 _______________
No need to sing the blues when you're wearing a cotton floral-print shirt, $515, Dolce & Gabbana. At Hirshleifer's. Saks Fifth Avenue. Jeans, $68, the Nautica Jeans Company. At Lord & Taylor. Macy's. Cotton geometric-print shirt, $150, Moschino Jeans Uomo. At Marshall Field's. Cotton shorts, $50, Tommy Hilfiger. At Lord & Taylor. Macy's. Cotton floral-print shirt, $230. At Paul Smith, 108 Fifth Avenue. Jeans, $59, Tommy Jeans. At Lord & Taylor. Macy's. Cotton shirt, $32, OP. At Foot Locker, Junction City, Kan. Surf's Up, South Padre Island, Tex.
_______________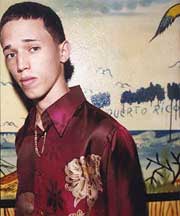 _______________
There are no wallflowers when the jukebox jumps
at the bar Los Migueles, just flowered shirts
like this silk twill shirt, $950, Gucci.
At Gucci, selected stores.
_______________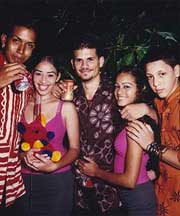 _______________
These two sisters were stylin',
but no match for their three dates,
wearing, from left: shirt, $260. At Paul Smith,
108 Fifth Avenue. Shirt, $69, Perry Ellis;
www.perryellis.com. Shirt, $100. At New Man,
Costa Mesa, Calif.
_______________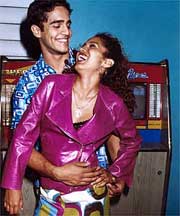 _______________
In her Kenneth Cole hot pants and leather jacket,
Katiria Pérez is serenaded by a merengue musician,
Hector Rivera, in his Chereskin shirt, $75.
At Uno Mundo, 23 East 20th Street.
_______________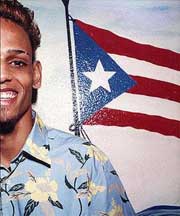 _______________
Jimmy Santiago stands proud
in front of La Bandera Bonita
in his shirt, $59, Tommy Hilfiger.
At Lord & Taylor's. Macy's.
_______________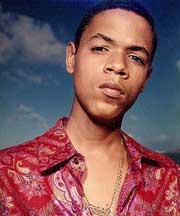 _______________
Luis Vega stops on his way to catch lizards
in the jungle, sporting his Sandy Dalal shirt,
$426. At Bagutta, 402 West Broadway.
Bergdorf Goodman.
_______________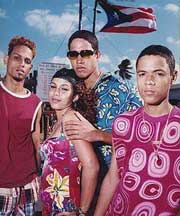 '
_______________
'Sundays, everyone goes to the beach,'' says Santiago, opposite far left, with his friends at Condado beach. Chilling never looked better than in this tank top, $90, Tony Melillo. At Barneys New York. Shorts, $70, Tommy Hilfiger. At Lord & Taylor. Macy's. Shirt, $32, Ocean Pacific. At Lo-man Outdoor Store, Babylon, N.Y. Sleeveless geometric-print top, $85, Moschino Jeans Uomo. At Moschino, 803 Madison Avenue. On her: dress, Dolce & Gabbana.
_______________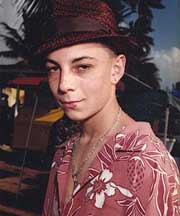 _______________
Vinny Matteo, from New Jersey,
visiting Pinones for the first time,
looks rakish in his silk shirt, $98,
from Tommy Bahama. At Nordstrom.
Hat, Makins Hats.
_______________







FOOTNOTES
By KENT BLACK
Resources, references and the back story behind the story.
1. Our photographer Ben Watts was knocked out by the scene at Pinones. The town is a ragged collection of shacks, bars and open-air discos along Highway 187, about 20 minutes from downtown San Juan. The salt air is heavily flavored with wood smoke and grilled meats from dozens of asados along the highway. All day and night and into the early hours of the morning, Pinones hums with the rhythms of salsa and merengue.During the early evening hours, commuters traveling east on the highway occasionally stop at one of the bars for alcapurrias, a fried pastry made with green plantains and filled with meat, olives and spices. After 11 p.m., the place starts heating up and the traffic along Highway 187 slows to a crawl, the drivers blaring their favorite music. When our shoot ended at 2 in the morning, the night was still young by Puerto Rican standards, so the crew headed out to several great nightspots until early morning, including the new and exclusive Asylum, the hip-hop club Free World and the salsa-oriented San Juan Chateau.
2. The music of Puerto Rico invariably brings to mind salsa, especially stars like the late Tito Puente, Willie Colon, Johnny Pacheco and Cheo Feliciano. However, there is an extraordinary amount of traditional and nontraditional music being made in Puerto Rico, from the old Afro-Caribbean bombas to the ragaton (Puerto Rican reggae) sounds of the San Juan projects. One's musical knowledge of the island can increase a hundredfold on a visit to the Old San Juan music store Sarava on Calle Tetuan. There, the manager, Jos 1/8 Luis Aponte, will introduce you to Plena Libre's "Mas Libre," the mountain jibarro music of Ramito, the melodic dance music of Edward Colon Zayas, the hip-hop ragaton of Maicol & Manuel's "No Hay Ley" and one of the all-time great compilations, "Tribute to Jerry Masucci," by the Fania All Stars.
3. A little-known gem of a film in 2000 was "Calle 54," a documentary on Latin jazz by Fernando Trueba, which the New York Times critic Elvis Mitchell listed as one of the Top 10 films of the year. Somewhat in the spirit of "The Buena Vista Social Club," the film documents studio sessions by some distinguished Latin jazz practitioners, like Puente, Chucho Valdes, Chico O'Farrill and Paquito D'Rivera, having a laugh here with Trueba.
4. In San Juan's old town, the hottest restaurant in the city is Dragonfly. Offering "Latinasian" cooking, the Dragonfly is renowned for its signature cocktail, the Dragon Punch. Our party had two per person and was nearly paralyzed. To make two 12-ounce cocktails, combine 8 ounces cranberry juice, 1 ounce fresh lime juice, 1 ounce passionfruit juice, 1 ounce pineapple juice and 1 ounce ginger syrup in a large shaker with ice and 4 ounces of Bacardi Limon. Shake well and pour into a cocktail glass, leaving room for a splash of ginger ale. Garnish with candied ginger, a lime wedge and an umbrella.
5. Old San Juan is a walking, not a driving, neighborhood. It's not just the narrow streets or the impossibly slow traffic or even the inexplicably positioned one-way signs. Some of the city's best museums, bars, music clubs and architecture are in the old town, and the only way to take it all in is one step at a time.
6. Not all of old town's neighborhoods contain delights for visitors. La Perla is one of the most famous -- and infamous. Perched between the old city walls and the ocean, this neighborhood has long been a haven for criminals and drug dealers. Watts and our location scout attempted to pass through its gates to have a look around, but were stopped by two armed men who frisked them and then told them in no uncertain terms to go back where they came from.
7. The stylists on our crew were surprised to find that, for a traditionally machismo culture, many of the young men we photographed shaped their eyebrows. Most of them liked their eyebrows squared off near the bridge of their nose and tapered back with diagonal swaths. Among eyebrow cognoscenti, the preferred tool for this operation is the Tweezerman Mini-Shaver, $33.
8. According to popular legend, the name of the mountain town of Aibonito translates as "Wow -- beautiful." Called the "Switzerland of Puerto Rico," the town lies at 2,000 feet and boasts an eternal spring, with average temperatures in the low 70's and just enough gentle rain to keep 50 species of wild orchid and the flaming red flowers of the flamboyan tree blooming. Aibonito has long been a favorite of Puerto Rico's elite. The area's cachet is still high. In the last decade, young professionals from San Juan and Ponce have been buying up the old coffee plantations and turning them into weekend retreats to escape the heat and humidity of the coasts. One such retreat is called Posada El Tamarindo, and its view of the mountain and traditional, brightly painted bungalows is a serene change from San Juan's bustle. El Tamarindo is available for rent and is highly recommended for a romantic getaway. For more information, visit the Web site at www.posadaeltamarindo.com.