Para ver esta página en español, oprima aquí.
PUERTORICOWOW
The Mirror Of Myrna Báez
October 25, 2001
Copyright © 2001 PUERTORICOWOW. All Rights Reserved.

Museo de Arte de Puerto Rico (MAPR) pays tribute to the great Puerto Rican artist Myrna Báez, whose art defines the island's reality in the second half of the 20th century.
The grand retrospective exhibition, entitled "Myrna Báez: una artista ante su espejo" (An Artist Before Her Mirror), opens to the public Sunday, Oct. 28. It emphasizes her major preoccupations, esthetics, techniques, and the solutions she has reached.
The presentation also puts forth her sustained interest in understanding and representing such themes as national identity and social class differences via contemporary language comprised of personal codes.
"Myrna Báez: una artista ante su espejo" includes the majority of her work from the past 40 years. The exhibition consists of 160 pieces, of which 130 are paintings, 15 engravings, five drawings, and 10 sculptures. Due to the retrospective nature of the showing, it will only feature the best work from each of Báez's various artistic stages from 1957 to 2000. These works are from the most eminent private and public collections on the island as well as those from foreign locations. Báez's prize-winning pieces also will be displayed.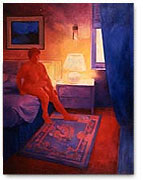 Myrna Báez's creations explore important picturesque and graphic means. More than any other Puerto Rican artist, she ventures into such graphic mediums as xylography, lithography, and serigraphy. Her presence in the Puerto Rican cultural world during the second portion of the 20th century is absolutely transcendent and the significance of her contribution serves as an obligatory reference not only to her generation but to those who follow.
The exhibition, designed by Jorge Cancio in collaboration with graphic designers Mara Robles and Lydimarie Aponte, features an educational panel that provides visitors an opportunity to better comprehend her work. In addition, it contains a time line so visitors can relate each piece with the cultural and historical events that were occurring at the time.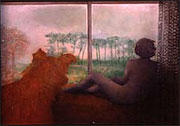 Complementing this grand display of art is a limited-edition monographic book that is for sale. This beautifully illustrated and full-of-color book is published by Universidad del Sagrado Corazón and includes investigative essays, critiques, the most comprehensive chronological repertoire of Báez's work, and a time line of her life. In addition, a pamphlet with a brief introduction and catalogue of the works will be distributed free of charge. The pamphlet converts into a 20" x 26" poster, a keepsake of this grand artist's work.
The MAPR is at 299 Ave. De Diego, Stop 22, in Santurce, San Juan. The museum is open Tuesday-Saturday, 10 a.m.-5 p.m., Wednesday until 8 p.m., and Sunday 11 a.m.-6 p.m. Admission is $5 for adults. Children under 12, students with an I.D., and senior citizens are $3. For more information and tour reservations, call the MAPR at (787) 977-6277.