Esta página no está disponible en español.
Orlando Sentinel
Lovely Island's Pastime: Shop Till You Drop
Maria T. Padilla
December 4, 2002
Copyright © 2002 Orlando Sentinel. All rights reserved.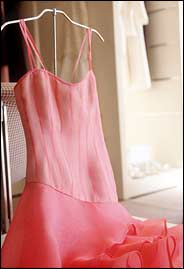 SAN JUAN, Puerto Rico -- Somebody forgot to tell the folks here that the economy is in decline. The malls are packed, including the food courts. The stores are elbow-to-elbow room only. People are spending -- and all this before the Thanksgiving kickoff to holiday buying.
Retailers, who often are down in the mouth about consumer spending (it's never enough!), must be delighted. For consumers, it's another matter. The crowds were so thick at one Wal-Mart that my sister Yollie said, "Let's get out of here. I'm so hyper my teeth are chattering."
In Puerto Rico, two things are true: Politics is the national sport, and shopping is the national pastime. Although the island is surrounded by natural beauty -- as Regis Philbin and Kelly Ripa discovered when they broadcast their show live from the island recently -- being on an island also limits your options.
So what's left to do? Go shopping! It's serious business in Puerto Rico, and U.S.-based retailers have discovered their very own fountain of youth here.
For years, Kmart, J.C. Penney and Sears have said that some of their best-performing stores are in Puerto Rico. Macy's was let in on the secret a few years ago, and that's one reason that Puerto Ricans, whether from the island or the East Coast, have flocked to the Macy's at the Mall at Millenia.
Meanwhile, Wal-Mart just received Federal Trade Commission approval to buy an island supermarket chain. And Costco just opened its l0th store here.
Competition has produced lower prices for Puerto Rico. Merchandise is as cheap as in Florida, and sometimes cheaper because Puerto Rico has no sales tax.
So how does an island with a per capita income below that of Mississippi, the nation's poorest state, support such consumerism?
Holiday shopping on the island is heavily boosted by Christmas bonuses paid to government and private-sector employees. It's required by law. The island government this week is set to increase this year's holiday bonus to more than $700 for commonwealth workers. And that is saying a lot, because about one-third of the workforce is employed by government.
But shopping has its down side.
Puerto Ricans spend so much money that they do not save. The island has what economists call a "negative savings rate." That means that not only do Puerto Ricans not save, but they are in debt. (Floridians reading this shouldn't feel too smug, because Americans in the states aren't too far behind.)
However, indications are that the island government wants to cut back on consumerism. It already has reduced the number of hours that island stores can remain open on Sundays. This explains the packed malls and my sister's chattering teeth on a recent visit.
And the island legislature recently called for a moratorium on the construction of shopping centers while a study is conducted of their social and economic impact. The fear is that the island is glutted with shopping malls, to the detriment of not only consumers but also small retailers and urban centers.
The idea was tabled, in favor of conducting the study sans the moratorium. So islanders can go merrily about their shopping, especially during this most frenetic of buying seasons.