Esta página no está disponible en español.
---


PUERTO RICO HERALD

A Night And A Day In Yabucoa

By J.A. del Rosario


---
January 30, 2004
Copyright © 2004 PUERTO RICO HERALD. All Rights Reserved.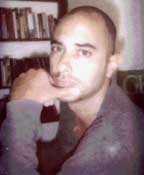 The sea in Yabucoa is flat, almost as if the water was still. This is the first impression you get as you look over the hills of this town on the southeastern coast of Puerto Rico.
Since the 1970s, when the newly built Palmas del Mar Resort & Country Club began attracting tourists to the east coast of Puerto Rico, Yabucoa has become one of the most undervalued tourist destinations on the island.
Although the town's coastline boasts some of the most beautiful beaches in Puerto Rico, many of them were only accessible through uninviting mountain roads. But serious investment in improving the island's roads during the 1990s opened up the area to more visitors, and before long small hotels started sprouting up in the mountains, with brochure-like views of the Caribbean Sea lapping against a pristine coast.
Costa del Mar is such a hotel. A simple cement structure that houses 16 rooms, the small inn opened for business on January 1, and it is a great find for the budget traveler.
Rates here run around the $100 per night. The rooms have an outstanding hilltop view of the ocean, and a great beach is nearby. Amenities here are complete, but simple. There is Cable TV and air conditioning, and there is a pool (albeit a very small one). But hotel owner Juan López, who says he was setting out to create a hotel for couples, decided to interfere as little as possible with nature and let the view do most of the talking for the hotel.
If you are traveling with the whole family, López's other hotel, just up the road, might be more suitable. The Palmas de Lucia Hotel has a restaurant and a larger pool.
When it comes to beaches, Palmas de Lucia has more proximity. Playa Luciá is literally right next to the hotel. But this beach ranks low, compared to its nearby competitor.
Yabucoa's best beach is the quiet side of El Cocal, right on Road 901.
Resting at the bottom of a steep hill with a rocky drop-off, El Cocal is a beach with two sides to it; one side features waves large, and consistent enough to attract surfers from all around the island; the other side features a yellow sand strip incessantly stroked by the tide of a gentle plateau sea.
The first access point will lead you to the gentle side. Secluded beaches such as this means there are no amenities around, so be sure to bring plenty of suntan lotion and water.
For lunch nearby, there are a few options. Road 901 is peppered with small eateries that serve plenty of local appetizers. On a hot beach day, these places are great. A small plate of chicharrón de pollo con tostones (fried chicken and fried green plantains) with a dash of hot sauce and a beer hit the spot for most locals.
If you are looking for more of a restaurant ambience, Palmas de Lucia is the place to go. The restaurant serves breakfast, lunch and dinner. You can get a burger with fries or a juicy steak with a baked potato for less than $20.
A note on the service at Palmas de Lucia is important. Although the restaurant closes between the breakfast, lunch and dinner hours, you need not worry about arriving between shifts. The waiters will gladly accommodate you in the restaurant and bring you some bread with drinks for you to calm your appetite before the start of the next serving shift.
A rarity in Puerto Rico, Yabucoa is split between valleys and mountains.
A sort of topographical split-personality. The visual effect is dazzling, valleys stretch out before your eyes until they are abruptly stopped by the vertical wall of a mountain protruding out of the earth.
In many areas this perfect snapshot is altered by the inclusion of a manufacturing factory, pumping a white billow of smoke from its many pipes.
Once a hub of sugarcane farming, Yabucoa adapted its economy more than three decades ago to attract foreign manufacturing companies. Sugarcane farming is almost dead in the area, with a few government-subsidized farmers keeping the tradition alive.
Back in Costa del Mar, the most important tradition is leisure and rest.
Go outside by the pool area with a good book and lie down to read in one of several hammocks overlooking the ocean. And see just how good that book really is.
Parador Costa del Mar
Road 901 Km.5.5
787-893-4423
Palmas de Lucía
Road 901 Intersection Road 9911
787-893-7652
J.A. del Rosario, a business reporter for The San Juan Star, is a remedial guitar player and an incorrigible nightcrawler. He can be contacted at: : jadelr2001@hotmail.com