Esta página no está disponible en español.
---


PUERTO RICO HERALD

Of Blooms, Blossoms And Buds: What To Do Around The Aibonito Flower Festival

By Brenda A. Mari


---
July 2, 2004
Copyright © 2004 PUERTO RICO HERALD. All Rights Reserved.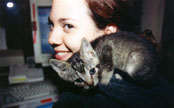 Well, now that summer is officially scorching on, sometimes lying there on the beach like a greasy French fry under the hot Caribbean sun just doesn't cut it. Heading inland (or at least indoors) is the only way to go. Well, luckily for all you nature lovers, this is the time of the year that the blooms take over "tierra adentro."
Forget Philly's Flower Show, Aibonito is where it's at. The town's 36th Flower Festival is back and it rocks and blossoms now more than ever. This year's Aibonito Flower Festival has been going on since last weekend (Friday, June 25th) and will close on Sunday, July 4th, Independence Day for many.
This weekend's activities look like it's going to be a blast with a spate of events leading up to the grand finale on Sunday with La India belting out her signature woman-roar and strutting her salsa princess stuff on center stage. She's coming straight from New York for this, so try not to miss her. Other artists are scheduled to appear, including the "merenguero" Bonny Cepeda, the Descarga Latina salsa dancers, salsa master Raphy Leavitt and his band La Selecta, Christian singer Samuel Hernández, the merengue Grupo Stars, and even the Román Mariachis. Conjunto Variedad will also be there and so will the full salsa band Orquesta Costa Brava.
As a plus, the 2nd Trovador Contest (Puerto Rican troubadour contest) will take place, organized by Víctor González, a celebrated trovador from Coamo. So get your cuatro fix in while the clouds are still holding.
You'll be able to graze all morning long through the smorgasbord of fried and barbecued Puerto Rican delicacies while you forage the different pavilions for the perfect odd plant to take home.
Orchids, heliconias, bromeliads, plumerias, passifloras, anthuriums, tropical vines, gingers, ornamental bananas, bougainvilleas, Birds of Paradise, local bonsais and floating lilies… If that's your ticket, go dive in. Or at least splurge on a miniature flamboyán tree and impress your mother-in-law. Or try one of those carnivorous plants, such as the Venus Fly Trap, which are all the rage lately. (Warning: They are finicky eaters. Please, no hamburgers!)
More than 30 flower experts are participating in the festival, showing off their prized ferns, "miramelindas" (impatiens), garden arrangements and outdoor tropical décor. The belles of the ball are, of course, the orchids, although the gingers don't hold anything back. The highlight of this year's show is the aquatic garden exhibit, designed by flower pro Wanda Sánchez, from Fajardo. If you're interested in this, many of those pond plants can be seen at The UPR Botanical Garden in Rio Piedras.
Workshops and seminars about how to take care of your plants and where they flourish best are being given by experts and the Aibonito Agricultural Service Office.
This year's festival was dedicated to the Brooks and Nelson family, who have been attending the festival for 19 years straight. They have a farm in Patillas blanketed with heliconias and gingers that they export twice a week to New York and have won more than 12 awards in this festival that is finally coming of age. If you're looking for the perfect heliconia or ginger that will last for generations, be sure to pass by their shop.
Prizes were already handed out to honor the experts' horticultural masterpieces. According to the event's president, Eduvildo Ortiz, picking out the competition winner turned out to be tough this year. That's an indication of how good the garden design is getting on the island. The Brooks and Nelson won first in the educational category for their artful and instructive display of the Zingiberales flora family.
Of course, there will be plenty of local "artesanías" (arts & crafts) to match your new plant life, as well as all kinds of gardening accoutrements to feed your new-found hobby..
Parking is free and has been expanded to accommodate the increasing crowds. There is also an area designated for municipal buses and tour groups. Next year we'll be looking at even more garden varieties with the addition of 10 acres for more exhibits, more kiosks and more activity centers.
Entrance is $3.00 for adults and $2.00 for children.
A bit about Aibonito
Aibonito is locally known as a chicken and flower producer. Two things we Puerto Ricans love best. Pollos To-Rico, a local fresh chicken brand, comes from there.
Aibonito has various nicknames, including "The Switzerland of Puerto Rico," "The Cold City," and the "Garden of Puerto Rico." Its name either comes from the Atibonuco River, now the Cuyón River (which in Taíno Arawak means "River of the Night"), or a Spaniard's exclamation of "Ay! Bonito!" upon gazing at the region's lush environment.
During the Taíno times it rested under the cacique Orocovix's jurisdiction, but alas, that fizzled out. In 1630, Don Pedro Zorascoechea established the first rancho on this beautiful, fertile spot, which lied then inside Coamo's boundaries.
These days Aibonito is a burgeoning town with a lofty reputation. Current gubernatorial candidate and all-around independentista icon Ruben Berríos is among the famous Aiboniteños. Its patron saint is Santiago Apóstol.
Nearby places of interest
If you're done with the flowers, the food, the music, the crafts and the people-watching and you still have energy to spare, then head on to the following.
Mirador: La Piedra Degetau
Stop by this lookout point to digest your fritters and enjoy the view.
The Degetau Stone got its namesake from Don Federico Degetau, the first Resident Commissioner to represent Puerto Rico before the United States Congress (1900-1904). This is the spot where this bard-turned-politician connected to his true Puerto Rican muse.
An observation tower (more like a tall deck) stands and there are facilities for kids to play in, as well as picnic area. It's a good place for an afternoon breather. You'll get the full view of Aibonito and beyond. If the visibility is clear, you'll be able to see all the way to El Morro Fortress in San Juan or La Guancha Boardwalk in Ponce.
The San Cristóbal Canyon
If you have time for a challenging afternoon hike down this impressive and only volcanic rift in Puerto Rico, then please do so. Several ponds await you at the bottom and the hike, albeit arduous, yields some magical moments. Some say the rocks resemble faces in the day's shadows. Prepare to put on your breaks on your way down. Just don't plan on swinging down from vine to vine.
Banquet in Aibonito
After all that exercise, what better way to satiate your hunger than with a stuffed "mofongo" (mashed plantains) from a nice "criollo" restaurant. Aibonito's visitors almost always head to the three favorites: La Piedra, El Rincón Familiar and Tio Pepe.
La Llorosa Bridge
One of the many versions of the legend tells of Moncho Luna, a drunkard with a heart, that on his way home one night, while crossing the bridge, answered a baby's cries. When he was about to wet the bread he carried to give to the baby, the baby spoke to him and said, "No need to wet it. I have teeth." And alas, when the moon shined on the baby's face, two huge satanic fangs scared him to the point of never drinking again.
There is another legend that tells of how the baby monster appeared there in the first place. The thing is, folks say that at midnight you hear the baby's cries. Why don't you stop by and creep yourself out on your way out?
The Lowdown:
Festival de las Flores, Aibonito
787-735-4070
From San Juan: Take highway 52 South and get off at the Cayey Exit. Make a left at the first light after the highway. This lands you on PR-1 going toward Salinas. Continue on # 1 until you reach the "Panoramic Route" (#7721). Make a right onto it. Drive up to the "Sector La Sierra" (road #772). Make a right at the first intersection. This leads you to the Rabanal Sector (past the cemetery and next to the Municipal Coliseum) where the Festival's facilities are located. (You'll see the signs.)
On PR-143
Open Wednesday - Sunday. 8am-4pm.
787-735-3871, 787-735-8181, 735-3880
The San Cristobal Canyon:
From San Juan: Take highway 52 south and get off at Cayey; continue on road number 1 south towards Salinas; make a right on the Panoramic Route (7722) which goes to Aibonito; drive up to La Sierra (722) and at the first intersection make a left towards "La Piedra Degetau"; on the first stop sign make a right towards the town; you will pass by a retreat house called "Casa Manresa" and get to the town plaza. Once in Aibonito, head towards Barranquitas either through "Barrio Llanos" (725) or via "Asomante" (Rd #14) making a right on 162. The picture above was made from an entrance through a small trail in Barrio Llanos (725) about a 1/4 mile from road 162. If lost, just keep asking. The last I saw, a very rustic sign led the way.
Dining local in Aibonito (Puerto Rican food)
El Rincón Familiar
Road 14 KM 48.8
Aibonito
(787) 735-7425

La Piedra
Route 7718, Km. 0.8
Aibonito
(787) 735-1034
Open Mon-Tue, 11:30 a.m. - 6 p.m; Wed, Thu and Sun; 11:30 am to 8 pm; Sat, 11:30 am- midnight.

Tio Pepe Restaurant
Road 723, Km 0.3
Asomante Ward, Aibonito
(787) 735-9615
Open Wed - Sun;11am to 11pm.
La Llorosa Bridge
Located on PR-14 from Aibonito to Coamo, about half a mile from the center of town. (Ask the locals at the restaurant so you don't get lost.)
Brenda A. Mari is an editor/reporter for The San Juan Star, an accomplished web copywriter and a fan of everything unusual. She can be reached at bamari@yahoo.com