Esta página no está disponible en español.
---


PUERTO RICO HERALD

Puerto Rican Sunday Drivers: The Guavate Experience

By Brenda A. Mari


---
July 30, 2004
Copyright © 2004 PUERTO RICO HERALD. All Rights Reserved.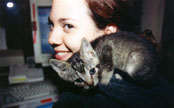 There is nothing quite so boricua like the familia Sunday drive. Everyone and their mothers hop on a car unto the great, wide, bumpy road to witness the island's professed enchantment. The family "lechona" (female pig, also a wide-bumpered van) bursts with jumping kids, huddled grandmas in the back seat and boisterous salsa pulses. Puerto Ricans spend plenty of their Sundays rolling smooth on the pavement, having the time of their lives and creating afternoon "tapones" (traffic jams) all over the place.
For the Sunday drive, the entire family gets all dolled up, goes to church and then moves on to internal tourism. Puerto Ricans from all walks of life flock to picturesque corners of the island. Think 'la dolce vita' meets the biker lifestyle. This is where our deep roots in ancestral bonds meet the all-American passion for cruising.
One of the most iconic places to go when the motherland calls is Guavate, in Cayey, the place that was "given back to Mother Earth." Guavate harbors the Carite Forest Reserve, a 6000 acre wonderland of cool mountain weather and colorful lushness where you can camp, hike, bird-watch and swim to your heart's content. Its most frequented spot is Charco Azul, a cerulean swimming hole steps away from the road. The reserve was established in 1935 to protect the watershed from which the Rio Grande de Loíza, Rio Grande de Patillas and the Rio de la Plata begin, hence its Taíno namesake (Cayey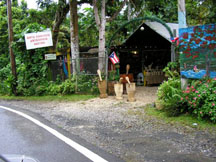 means "place of waters"). There are two campsites and plenty of trails for you to get lost in. It is indeed a place of great beauty and it oozes fertility like no other.
But what really draws the crowds is the entire Guavate experience: the "lechoneras" (roasted pig eateries), the down-home goodies, the people, the music, the mountains and the flowers. This scenic, bamboo-laden drive up the curvy mountains is a must for every self-respecting Puerto Rican. Everyone, from the staunchly patriotic Nuyorican (read flags tied around their heads) to the homey "jíbaro" with the wise stare to the well-put-together girlie girl comes to these "lechonera" joints. While the roasted pig gets savored bit by bit, the music flows, the fritters fly and time concentrates on having fun.
Guavate is home to the emblematic "pavochón" (turkey seasoned like lechón, or roasted pig), honey, sweet cakes and weekend feasts. During the week, it is a peaceful, idyllic community; come Saturdays and Sundays, the place turns into party town. The best way to see it is to drive up, stop and shop through all the wonderful stands on the road, party with your own kind like there's no tomorrow and then finish off with a nice plate of typical Puerto Rican fare: lechón, pasteles, guineítos, panapén and arroz con gandules (you know the drill.)
First up are the first two "lechoneras," El Mojito, pioneer in the "pavochón" segment, and Brunny's. The food is superb and the best spot for those who don't want to stray too far up the hill. Press on the gas and give your 4 x 4 a run for its money, because you're going up, up, up, and past many curves. Bonine does wonders for carsick-prone people.
Take your time taking in the scenery: green-as-they-come lushness, bamboos, creeks, and flamboyanes (especially this time of year). Check out La Casona de Guavate, an imposing former mansion turned restaurant overlooking a hill that serves all-you can-eat buffet for $10 and gathers local bands for a great bash. The place is also rentable, perfect for weddings.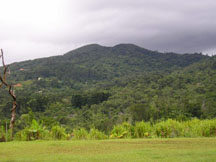 On the way you'll spot different stands selling all sorts of earthy goodies, such as Guavate Bonsai, where Miguel Angel and his family will orient you on the best way to treat your new perfectly-manicured, green son. Rafi's Pique is another well-organized makeshift stand in front of a white house that sells honey, noni extract, natural pique (hot sauce), Puerto Rican sweets and the best coconut "limbers" (natural snow cones) this side of the island. Try the orange honey, it is heavenly. You can also get your hands on an honest-to-God "pilón" (mortar and pestle) at Arte Guavate, a quaint arts and crafts store where you are bound to find that unique souvenir for that special someone. There are also nut cakes, sangria and cloth dolls to acquire on your climb up the mountain. At Jardin El Nuevo Rancho's tent you can get your hands on stunning bougainvilleas (3 for $20) in all kinds of vivid colors. Francisco "Paco" Burgos, the owner, will also tell you all about strawberries and the rose of the desert cactus.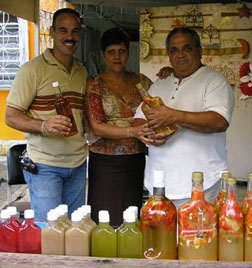 Once you hit the intersection with PR-763, keep on trucking on the same road. That's where the mambo starts. The lechoneras start amassing, the music gets louder and the lines get bigger. If you want to eat in a quieter place where you can enjoy the view of the emerald mountain, stop by the Lechonera Muller, which during the week is also an upholstery business, as well as a little "colmado" (market) with a pool table. The place is simple and smaller than most, but you can breathe peace while you sink your teeth into a perfectly boiled breadfruit and one savory pastel, as you watch the Puerto Rican bikers whiz and rumble by. Witnessing up close how they hack at the entire roasted pig is another epiphany moment. It gets you closer to your food, which, thank God, this time didn't come from a wrapper.
So get your car tuned-up, get your family in gear and get yourself into the mood and head to the lush hills of Guavate. This Sunday drive is one to remember. Go ahead, vroom off to jíbaro heaven!
The Lowdown
Getting to Guavate: From San Juan. Hop on the Luis A. Ferré Expressway going South (PR-52) as if you were going to Ponce, when you get near Cayey, take exit # 33, which says Guavate, turn left and head up the mountain on PR-184. From there on, your colorful adventure begins.
Carite Forest Reserve
787-745-4545
Need permit to camp.
Lechonera El Mojito
Barrio Beatriz, PR-184, Km. 32.9
787-738-8888.
Open everyday, 8 a.m.-8 p.m.
Offers catering service and will organize parties.
La Casona de Guavate
Rt. 184, Km. 28.5
787-747-5533
Guavate Bonsai
PR-184, Km. 30.9. Sat.- Sun.
Yep, they're right there on the curve. Can't miss them. The bonsais will simply beckon.
Rafi's Pique
PR-184, Km. 28.9. Sat. – Sun.
There is no sign, but it's the best laid out honey and pique stand on the road. If you're going up the hill, it will be to your right in front of a white house.
Jardín El Nuevo Rancho
PR-184, next to the Lechonera El Rancho.
787-735-8718
Lechonera/Tapicería Muller
PR-184, Km. 32.6
787-263-4138
Brenda A. Mari is an editor/reporter for The San Juan Star, an accomplished web copywriter and a fan of everything unusual. She can be reached at bamari@yahoo.com