Este informe no está disponible en español.
THE NEW YORK TIMES
What's Doing in San Juan
by MARTIN DELFIN
PHOTOS: Anna Martinez for The New York Times
October 1, 2000
Copyright © 2000 THE NEW YORK TIMES. All Rights Reserved.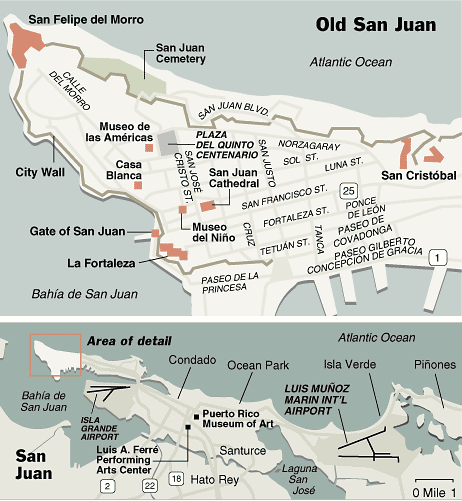 With the elections Nov. 7, it is not surprising that the question on most Sanjuaneros' minds is who is going to be the next governor. Given the emotional campaign issues, such as corruption in public agencies and the United States Navy's possible withdrawal from the island of Vieques, some of the recent transformations in this capital city have been barely noticed, it seems. There is construction everywhere. The biggest projects include a new coliseum and a light rail system.
The $55.2 million Puerto Rico Museum of Art opened in the Santurce sector in July yet, several months later, there are reports that museum officials are having trouble convincing residents to browse.
Stiff competition in the old city has led to a string of restaurant closings, including some longtime favorites, like Maracas and Fusion. New restaurants have taken their place with little fanfare.
Over in the beachfront area of Condado, engineers are still tearing up the sidewalks as part of the mayor's effort to beautify the once trendy neighborhood.
There and elsewhere in San Juan, don't be surprised by the blare of salsa music coming from a large bullhorn on top of a truck. It's probably the head of a noisy caravan. Politics is the national sport in Puerto Rico, and the final campaign swing is building momentum, as a mayor and a host of legislators will be chosen, along with the governor. Colorful motorcades snake through city neighborhoods with candidates waving to passers-by from atop a flatbed truck. It's easy to get caught up in the spirit even if you can't vote.
Old San Juan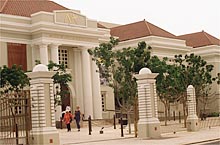 EVENTS
The new Puerto Rico Museum of Art, 300 De Diego Avenue, about three miles east of the old city, will have its inaugural exhibition, "Treasures of Puerto Rican Paintings," on display until Jan. 7. The exhibit includes more than 250 paintings by Puerto Rican artists from colonialism to the present day, including the work of Francisco Oller and José Campeche. The 130,000- square-foot museum, occupying a 1920's neo-Classical former hospital and a contemporary five-story building designed by Luis Gutiérrez and Otto Reyes, has become the centerpiece of the Santurce area's economic recovery. The grounds include a five-acre sculpture garden; a restaurant is to open in December. Hours: 10 a.m. to 5 p.m. Tuesday and Thursday to Sunday; 10 a.m. to 8 p.m. Wednesday; $5; (787) 977-6277.
The popular Gallery Nights began last month and will run until December, and from February until May. On the first Tuesday of each month, art galleries throughout the old city stay open for art lovers looking for a bargain or those who just want to be part of the festive crowd. Admission is free; some galleries offer music, sandwiches and wine. Information: (787) 722-1709 or (787) 724-4788.
David Copperfield brings his Unknown Dimension show to San Juan from Friday through Sunday at the Luis A. Ferré Performing Arts Center (better known as Bellas Artes), Ponce de León Avenue at Stop 22. Tickets are $86 and $61.
There are events almost every night at Bellas Artes. Highlights this month include the Latinissimo ballet festival, Oct. 13 to 15, with the Ballet Concierto de Puerto Rico performing the work of five Latin choreographers; "Romeo and Juliet," performed in English by the Opera Theater, Oct. 19 to 21; and A. R. Gurney's "Dining Room" presented in English, Oct. 13 to 15 and 20 and 21. The Cuban Contemporary Dance Company, a troupe that specializes in modern and postmodern dance under the direction of Miguel Iglesias, will perform Oct. 27 to 29. Call (787) 620-4444 for times and tickets, which run from $25 to $86.
The Conservatory of Music of Puerto Rico, 350 Rafael Lamar Street in Hato Rey, gives free weekend concerts through May. Call the Conservatory at (787) 751-0160.
SIGHTSEEING
The San Juan National Historic Site encompasses two Spanish fortresses used to defend the island from attack. The sprawling San Felipe del Morro, built between 1539 and 1783, is set dramatically on a promontory, and one can wander freely through five levels of the vast structure, looking out over ocean views. Its younger twin fortress, San Cristóbal, built in 1634 with a network of tunnels and trenches, is nearby. Both can be reached from Norzagaray Street in Old San Juan and are open daily 9 a.m. to 5 p.m.; admission $2 for each fort; $1 ages 13 to 17; information (787) 729-6960.
Islanders can claim the oldest governor's residence in continuous use in the Western Hemisphere: the Santa Catalina Palace, better known as La Fortaleza. The imposing pale blue and white building flanked by two watchtowers dates back to between 1533 and 1540; the second and third floors were remodeled in neo-Classical style in 1846. Free guided tours, some in English, include a first-floor salon, the dungeon and lush gardens, which still retain the Spanish colonial atmosphere. They are given between 9 a.m. and 3:30 p.m. Monday to Friday by reservation at (787) 721- 7000, extensions 2211, 2323 or 2358.
San Felipe del Morro.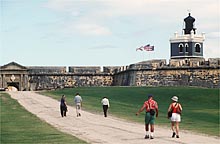 Ocean Park Beach, north of España Street in the Ocean Park neighborhood, and 15 minutes by cab from the old city, is considered the most popular beach in San Juan. The mile- long sandy strip lined with condominiums, guesthouses, homes and a few small restaurants is crowded with young Sanjuaneros showing off their physiques as they play paddle ball, windsurf or just lie in the sun.
For secluded beaches, you can cross the island to the southwestern tip, to Boquerón or Cabo Rojo, about two hours' drive from San Juan.
And for kids, the Museo del Niño has playrooms where children can hammer away in a makeshift carpentry section or climb in a small replica of a town center; 150 Cristo Street, (787) 722-3791. Open Wednesday through Sunday; $2.50.
WHERE TO STAY
Rates are for peak winter season.
The San Juan Marriott Resort and Stellaris Casino, 1309 Ashford Avenue, (787) 722-7000, fax (787) 722- 6800, is one of the most popular resorts in Condado. A lake-size pool with a tropical garden serves as a foyer to an Atlantic Ocean beach. At night, couples dance in the immense lobby where an orchestra playing Spanish tunes competes for attention with the clanging of change from the casino. Rooms, like many of those in the more expensive hotels, have a tropical flavor, complete with painted flowers and palm trees. Winter rates for both singles and doubles in the 525 rooms range from $285 for a city view to $305 for an ocean view, plus 11 percent tax.
The open-air lobby of the 644-room Caribe Hilton Hotel, Los Rosales Street, San Geronimo Grounds, (787) 721-0303, fax (787) 725-8849, with its lush tropical plants and waterfalls, gives visitors a warm Caribbean feel. Double rooms in this recently remodeled hotel run from $295, which includes Continental breakfast but not 9 percent tax.
Beach by the San Juan Marriott in Condado.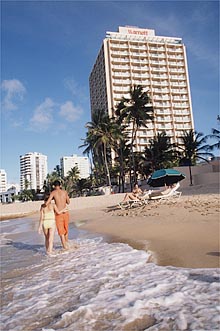 Budget: To stay within reach of Condado without being in the middle of all its touristy bustle, you could try the Hotel Excelsior, 801 Ponce de León Avenue, Santurce, (787) 721- 7400, fax (787) 723-0068. The 140 simply furnished rooms are equipped with kitchenettes or microwaves; there is a pool and a restaurant. Until Dec. 15, packages are available at $302 double occupancy for three nights, $393 for four nights and $665 for seven, plus 9 percent tax; Dec. 15 and after, doubles are $143 and up plus tax per night.
The Hotel Iberia, 1464 Wilson Street, (787) 723-0200, fax (787) 724- 2892, is a small, friendly inn near east Condado and within walking distance of parks, shops and the beach. The 30 rooms are small and sparsely decorated but clean; doubles from $88 with tax.
Luxury: When Sanjuaneros want to celebrate, they go to El San Juan Wyndham Resort Hotel and Casino, 6063 Isla Verde Avenue, (787) 791- 1000, fax (787) 791-0390. The 389 elegant rooms, done in pastels with plush furnishings, range from $395 to $775 plus a 22 percent tax. There are seven restaurants, a casino, a disco, several lobby bars and some of the city's most expensive shopping.
The palatial Ritz-Carlton San Juan Hotel, Spa and Casino, 6961 Avenue of the Governors, (787) 253-1700, fax (787) 253-1111, is 10 minutes from the Luis Muñoz Marín International Airport. The hotel boasts shops, a spa for guests and several restaurants. The 414 rooms, decorated in a Caribbean contemporary design with bright colors and large marble bathrooms, overlook the ocean (the hotel has a beach) or the Isla Verde strip with its shops, restaurants and condominiums. Peak season rates begin at $389, plus 11 percent tax.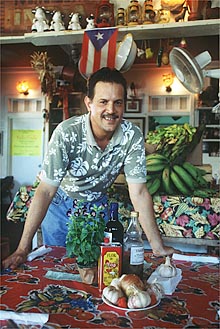 WHERE TO EAT
(left) Jesús Rivera in his restaurant, La Casita Blanca.
Trois Cent Onze, 311 Fortaleza Street, is one of the newest restaurants in Old San Juan. A former film studio that later became a kitchen- supply shop, it serves French cuisine in Art Deco surroundings. Starters include lobster and salmon ravioli with fresh dill and shellfish or lobster velouté with Cognac and fresh dill. Steamed fish and vegetables in pesto and sole meunière are among the entrees. The chocolate mousse perfumed with rum is delicious. Dinner for two with wine is about $120; (787) 725-7959.
Another new entry on the San Juan dining scene is Luigi's, 104 Diez de Andino, where the Genovese owner and chef, Luigi Sanguineti, prepares the antipasto, gnocchi with pesto and eggplant lasagna. The small restaurant has a formal and romantic ambience. Dinner for two, including wine, $55; (787) 977-0134.
Anyone turning up in San Juan craving Mexican food will find authentic dishes at Cielito Lindo, 1108 Magdalena in Condado, decorated with Mexican posters and beer ads. In addition to the combination plates, which include a tostada, guacamole taco, refrijoles and chalupa, Tampique steak and enchiladas are popular. Dinner for two, with beer or drinks, $45; (787) 723-5597.
To get away from the glitter of hotels and casinos and see a typical San Juan neighborhood, you might take a cab to La Casita Blanca, 351 Tapia Street, in Villa Palmeras, a good place for Puerto Rican home cooking. Politicians come here to meet (the two leading gubernatorial candidates had a much-publicized lunch recently). An appetizer like cod fritters might be followed by rabbit or shrimp fricassee, grilled red snapper or the typical chicken asopao, a soupy rice stew. The food comes served in a small kitchen pot on a plate decorated with fried plantains, rice and beans. A liqueur on the house is served after the meal. Dinner for two, $30; (787) 726-5501.
No matter what time of day, Bebos Cafe, 1600 Loiza, in Santurce, always seems full. This is a place for good food at a cheap price. Roasted chicken and ribs, pork chops, chicken soup and club sandwiches are always on the menu. You may have to wait a few minutes to get a table. Dinner for two, with beer, $15; (787) 268-5087.
NIGHT LIFE
The Chardón Bistro, 205 Chardón Plaza, Suite 1008, in the Hato Rey financial district, is the coolest spot in town for jazz and bossa nova from Wednesday through Friday. A deli by day, where lawyers, judges and government officials from the nearby federal court building have lunch, turns into a candle-lit bar at night. The Brazilian duo Sambosa starts off the week, from 6 to 9 p.m.; light jazz Thursday 8 to 11 p.m.; merengue and salsa Friday 6:30 to 10:30 p.m.; no cover charge; (787) 756-5248.