Esta página no está disponible en español.
---


PUERTO RICO HERALD

Puerto Rico's Athens Gives Itself To Frolic: Manatí Celebrates Its Patron Saint

By Brenda A. Mari


---
January 28, 2005
Copyright © 2005 PUERTO RICO HERALD. All Rights Reserved.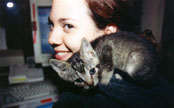 Christmas in Puerto Rico is officially over. Everyone and their mother went to romp around and see all the latest arts and crafts at the Fiestas de San Sebastián in Old San Juan. It's done and over with. Kaput.
But you know us. We just can't seem to stop partying! So, this weekend it's time to hit the illustrious pavement of Manatí. Let's help them celebrate the Day of the Virgin of Candelaria, on February 2nd, also the day people on the island burn their Christmas trees for good luck.
This is the first time the fiestas last so little, so lots of fun stuff will be crammed into 6 days of sheer revelry. There will be picas (tin horse racing machines) to bet on, "alcapurrias" and "bacalaítos" to nosh on, beauty queens to gaze at and plenty of music to shake your booty to. You know. Party hardy, the Boricua way. Plus the people-watching at these fiestas patronales is tops.
Manatí's Fiestas Patronales will take place at the Acropolis Deportivo, in front of the Pedro Román Meléndez Stadium, on PR-670, not in the town's main plaza. The festivities begin today, January 28, and last until February 2nd. So, without much ado, here's what's going on. Most of it takes place after 8 p.m.
Friday, January 28
Reinados (Beauty queen coronations)
Festive and colorful processions, complete with glittery floats, blasting music and catchy dance steps. Both "reinados" will take place in one night, since they packed more fun into less days. The Juvenile and Infantile Queens of the Fiestas Patronales 2005 are SM Silvia Liz Reyes Pabón and SM Nashalys García Rodríguez, respectively. The Juvenile and Infantile Queens of Athenian Carnival 2005 are SM Anaiz Alicea Ortiz and SM Krizia L. Santiago Hernández, respectively again.
La Sonora Ponceña
Papo Lucca's legendary salsa band kicks off the Fiestas with their jazzy Latin panache. These guys have been around for more than 50 years, so pay your homage. Perfect for brushing up on your salsa steps.
Saturday, January 29
Tropical Latin Orchestra
Get swept off your feet to the beat to this full orchestra's tropical, jazzy rhythms.
Flor de Tabaco
Get the lilting steps together to dance to the beat of this well-known local bachata duo.
Algarete
Get wild with the irreverent songs of this fusion Latin rock band. They're sort of the Puerto Rican Beastie Boys, fightin' for their right to party, but with a ska spirit roaming the scene.
La Sensación del Merengue
Move those hips from side to side, get that second chakra to spin like Funky DJ to the beat of some savory merengue.
Sunday, January 30
Grupo Millenium
Lift your spirits with this local Christian soft rock band.
Pleneros de Ponce
Get jiggy with it with one of the best plena musical groups on the island. They've been around for more than 13 years and they know their stuff for sure. Can't miss this.
Manny Manuel y su Orq.
This beloved salsa singer used to front Los Sabrosos del Merengue before going solo. Now he's got his own band and brings the house down. He's performed with Puerto Rican top guns such as Antonio Cabán, "El Top" and Trio Los Condes. He'll charm the ladies alright with his Vida Loca-like moves.
Cano Estremera y su Orq.
This beloved albino salsa vocalist has one of the best voices around, winning him the Paoli award for Salsa Vocalist of the Year in 1986. He used to sing alongside Bobby Valentín, with which he broke into the limelight with the mega hit "La Boda de Ella." He is known as one of the best "soneros" on the island, demonstrated at a now famous concert in Guánica, where he sang 105 consecutive stanzas without repeating a single phrase. His vocal improvisations will sure to uplift and take you places you never thought you would go.
Monday, January 31
Big Band de Jóvenes
Kick off the night with some Latin Big Band sound.
Lito y Polaco
Really get jiggy with it with this popular reggaeton duo. 'Nuff said.
Los Nuevos Sabrosos del Merengue
Sway, sway, sway your hips to this hot merengue band that made waves in this musical genre.
Tuesday, February 1
Tommy Olivencia y su Orq.
A bandleader for more than 35 years, Tommy Olivencia has seen many salsa greats pass by his band, including Gilberto Santa Rosa, Frankie Ruiz and Paquito Guzmán. The range and depth of this classic salsa band is astounding, of course.
Grupo Stars
Shake that booty to the beat of this flashy merengue trio that has its own recording studio. Alfred, Gaby and Chino have unbeatable energy that will get your feet moving no matter what.
Wednesday, February 2
Sonia López y su Orq.
More salsa and conga beats for you.
Victor Manuelle y su Orq.
Gilberto Santa Rosa's protégé has wowed salsa audiences all over with his clear, powerful vociferations. Know as the "Sonero de la Juventud" he has won many awards and haunted the Billboard charts aplenty. You won't be let down, that's for sure.
Also, before indulging in so much nightly entertainment and booty shaking, why not try some of the town's best international and criollo restaurant's: Su Casa Rest. & Steak House (has the Puerto Rico Tourism Company's "Mesón Castronómico" seal of approval), Nicolás Restaurant, Diego's Restaurant, El Cervantes and Pitahaya.
Keep partying. We need it during these uncertain times.
The Lowdown
There is so much more to do and see in Manatí that it's too much to list here. So why not stop by the municipalities' Tourism Office Web site? Check out www.atenas.com/gotomanati; it's pretty complete. Also, Manatí's Tourism Office offers several excellent guided trolley tours through town. Call them at 787-884-3428.
Su Casa Steak House
PR-670, Km 1
Córdova Dávila Sector
787-884-0047
Criollo, International. Certified Angus Beef. Mesón Gastronómico.
Nicolás Restaurant
On PR-2, Cantera Sector.
Criollo, International.
Diego's Restaurant
San Salvador Marginal on PR-2
787-884-0109
International. Has a sports bar.
El Cervantes
San Salvador Marginal on PR-2
787-854-3645
Fine dining. Criollo. International.
Pitahaya
On PR-2
Criollo. In front of Manatí's Plaza del Mercado
Brenda A. Mari is an editor/reporter for The San Juan Star, an accomplished web copywriter and a fan of everything unusual. She can be reached at bamari@yahoo.com