Esta página no está disponible en español.
---


PUERTO RICO HERALD

Something Sweet Like Mango in the Air: A Primer on Mayagüez

By Brenda A. Mari


---
March 25, 2005
Copyright © 2005 PUERTO RICO HERALD. All Rights Reserved.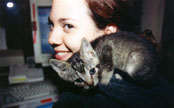 Mayagüez is the town my family comes from, but I've never lived there. "Tú eres de los Mari de Mayagüez?", people ask. And I always say yes, even if I don't know exactly who they are. Well, hello there all you related folk. I hear there's even a Museo Mari on Cerro Las Mesas, displaying the history of the family from the time they settled to grow coffee on the mountains, rebellious Corsicans fleeing the Napoleonic Wars.
Mayagüez has always played third wheel to Ponce and San Juan, but it has always maintained its small-town charm, no matter if it has now become the anchor for the entire West -- what the PR Tourism Company now dubs and markets as Porta del Sol.
Mayagüez means the Town of the Clear Waters, in Taíno. It is also known as The Town of the Mangos, for the sweetness of the little, fibrous, pock-marked fruits that grow there. It also boasts Puerto Rico's national and fairly decent zoo. Mayagüez has its own airport to boot, the Eugenio María de Hostos International Airport, serving the west and south of the island. It is cosmopolitan, but not overly run by tourism. That's why we want you to go and check it out.
Mayagüez also played a part in the U.S. War for Independence, when in 1777, two small American ships, the Eudawook and the Henry, took refuge in the Mayagüez bay, while fleeing the English warship, the Glasgow. The Glasgow found them out and was about to overtake them when the Mayagüezanos signaled to the Americans to bring in the small ships to the beach, made the crew get off and raised the Spanish flag. The commander of the Glasgow then appealed to the island's Governor about this, but he bade the English ship a quick farewell from port.
Mayagüez is also home to the makers of the ubiquitous, light and cheap Medalla Beer, the Cerveceria India, one of the biggest local companies on the island. Plus, this next weekend, April 1-4, they're having the town is having their own kite-flying experience with the Festival del Volantín, yet another family-oriented fete, bursting with local art, artists and, of course, fritters. (Call Julio Vélez at 787-834-0667, or 787-833-2071, for more information.)
Well, I could go on and on about Mayagüez and all it has contributed to Puerto Rico's cultural and political environments, but we'd be here all day. And you just want a primer on where to go, right? Here it is.
Must-sees in Mayagüez:
Plaza Colón
The main plaza, and one of the nicest in Puerto Rico to boot. This is the deep-rooted heart of Mayagüez, where the old boys play domino, families sit by the shade of the trees and kids persecute the ice cream cart. The scenery changes, of course -- your experience of it will be quite yours to relish. A statue of Christopher Columbus surveys the 19th century urban landscape.
The Cathedral
Originally built in 1763, it lost its two towers on the 1918 earthquake; they were rebuilt in 1922 by architect Luis Perocier. It is quite a beautiful place of worship dedicated to the town's patron Our Lady of the Candelaria, featuring a Spanish revival style with some Art Deco tones. In the 19th century, it was the site of a historic and symbolic event, the "aguas de libertad" ("waters of liberty"), where thousands of black slave children were baptized and emancipated by Puerto Rican abolitionists Ramón Emeterio Betánces and Segundo Ruíz Belvis. There are good vibes all around, I must say. Stop by and light a candle for world peace, if you please.
55 Iglesia Mayagüez, Puerto Rico
Tel.: 787.831-2444
Old Casino
An architectural symbol of the reconstruction of the city after the powerful 1918 earthquake, it is an eclectic representative of the new standards of building. The intricate façade blends neoclassical, Moorish and modern notes. It's right in front of Plaza Colón, can't miss it. It was once the site of the first sociocultural institution on the island, preceding the prestigious Ateneo Puertorriqueño in Old San Juan.
Teatro Yagüez
"La Catedral del Arte Sonoro" ("The Cathedral of the Sound Arts") as it is lovingly called, The Yagüez is one of the jewels when it comes to theaters on the island. Rebuilt after a fire in 1920, it was declared a historic building in 1977. Second only to the notable Teatro Tapia in Old San Juan, the Yagüez saw its heyday between the 20s and 40s. The yellow and white façade is impressive, bursting with elaborate neoclassical cues. The inside is equally inspiring, with its high theater booths typical of the early 19th century European style theaters. Many a Spanish zarzuela and local operettas have graced this stage, as well as more modern drama. Stop by for a peek and check out what's playing tonight.
On McKinley St., one block west of the Plaza Colón.
Hours: Mondau-Friday, 8:00am - 4:30pm.
Casa Grande
Built in 1890, featuring that typical southern Puerto Rican neoclassical style, but this time residential, with an interior patio. This house used to be a popular meeting place for the great thinking minds like José de Diego, now a museum for you to peek back in time in.
Open: Mon- Fri. 8:00am - 4:30pm
104 Méndez Vigo St. East, Mayagüez, P.R. 00680
Tel.: 787.832.7435
Fido's Sangria
If you hanker for some secret sugary concoction, head to Fido's, home of the popular sweeter-than-thou sangría. Try their other fruit juice and wine variations, Juan 23 and Albina de Fido. The place is as dive-y as they come at first glance, but it's quite endearing once you see all the proud Puerto Rican icons, posters and art peppered all over the walls. Why not get grab bottles for those less warm back home?
75 Duliebre St., Balboa Ward (Ask around.)
Open: Everyday from 10 a.m. on
Tel: 787.833.4192
E-mail: fidoinc@coqui.net
Franco's Brazo Gitano
Feeling like a sweet tart? Then head to Franco's for a yummy brazo gitano, a soft, spongy cake wrapped into a roll with the tropical jam of your choice. Gotta try one of these.
276 Méndez Vigo St., Mayagüez, P.R. 00680
Monday- Friday: 7 a.m - 6 pm
Tel.: 787.832-0070 / 832.0072
www.brazogitano.com
Ricomini Bakery
A well-known bakery with melt-in-your-mouth "pan de agua", sort of a Puerto Rican French loaf bread, and "pan de flauta", a French baguette version. There you can hop in for a cup of damn good cup of coffee and a yummy local pastry.
101 East Méndez Vigo St. Mayagüez, P.R.
Tel.: 787-832-0565
UPR Mayagüez Planetarium
The one and only planetatium on the island is inside the University of Puerto Rico's Mayagüez campus, one of the most prolific talent pools for NASA and MIT to pick and groom future scientists and engineers from. Although relatively small when compared to your regular U.S. planetarium, it does the trick, especially for the science-prone kids.
Inside UPR Mayagüez, PR-2
There are full tours of the entire place every second Tuesday of the month at 8 p.m. Otherwise, go for the educational shows from Monday to Friday, 8:00am - 11:30am and 1:00pm - 2:30pm. Entrance is free. Closed in July.
Dr. Juan A. Rivero National Zoo
Get there early, before 10 a.m. to avoid the crowds, or go later, like at 3 p.m. just when the zoo is about to close, for a quick run. The zoo was established in 1954, but received a recent, and much-needed revamping a couple of years ago. They are still remodeling some of it as I write. It features more than 75 species from all over the world. Of course it stars your mandatory giraffe, hippo, tiger and gorilla. Check out local celebrities like the "guaraguao", the Puerto Rican hawk, and the "múcaro sabanero", the local wide-eyed owl. The new aviary makes bird watching a cinch.
Hours: Wednesday - Sunday, 8:30am - 4:00 pm and holidays.
(Tuesdays - Sundays in the summer.)
PR-108 (Follow the signs)
Tel: 787.834-8110
Parque de los Próceres
Along the Yagüez River, between PR-108 and PR-65, lies one of the most beautiful parks in Puerto Rico. Go for a stroll through the lovely gardens and carefully manicured paths, or sit underneath a trees just to catch a breeze. It is the lung of the Sultana del Oeste, as Mayagüez is known. Stop by for a rest before heading to a local restaurant recommended by a friendly local.
Brenda A. Mari is an editor/reporter for The San Juan Star, an accomplished web copywriter and a fan of everything unusual. She can be reached at bamari@yahoo.com