Esta página no está disponible en español.
---


PUERTO RICO HERALD

The Puerto Rican Bloodsport: A Look At Cock Fights On The Island

By Brenda A. Mari


---
April 8, 2005
Copyright © 2005 PUERTO RICO HERALD. All Rights Reserved.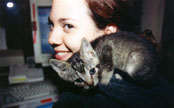 In a brightly lit, air-conditioned "gallera" everyone's attention turns to the Astro-Turf green ring. Hands grip the grey, padded cover that surrounds the ring. Two majestic roosters get weighed by attendants to make sure they are well matched. The judge examines the potentially deadly plastic "espuelas," or spurs, that are tied to the drake's legs to check for the legality of the material. The birds are poked and tainted, first with a stuffed, bird-shaped pillow, then with a live bird. Both gander brawlers start pecking at the air, furiously pounding their beaks at each other on the plastic division that separates them. On the seats, the men start shouting their bets according to the level of aggression shown. On the right, the bookie says "accepted" and jots down the bets. The several women in the audience sit higher up in the bleachers, looking on with varying looks of everything from disgust to nonchalance on their faces.
This is called the "deporte de caballeros" (the sport of the gentlemen) because all bets are honored, no matter what or who. It is intrinsic to Puerto Rican culture, especially the men's culture, even though its fighters fight to the death, something that runs contrary to the values that support this island's ban on the death penalty. But you know how every culture has its oxymorons…
Cock fights in Puerto Rico are alive and well, whether you (and the U.S. Federal Government and U.S. Oregon Rep Earl Blumenauer, for that matter) like it or not. It's been almost two years since the ban on interstate and international trading of fighting animals was imposed under the 2002 amendment to the Animal Welfare Act, yet this very Boricua sport is solid, thriving and bringing in big bucks to the island. It is the 10th biggest industry on the island when it comes to revenues. Last year, $42 million was generated by this flourishing industry. It also generates 40,000 to 50,000 direct and indirect jobs. The solidity and revenues of this industry is what saves it from further scrutiny.
According to Carlos Quñones, director of the Office of Cockfighting Affairs of the local Sports and Recreation Department, Puerto Rico is consolidating its title as the Mecca of Cockfighting all over the world. During 2004, there were 191,425 fights, about 25,000 more than usual. There are currently less active "galleras" (cock fight rings) than before: 104. (The most they've had was 146 in 1976.) But now the cock fights are held all year round, instead of the partial annual season that was previously prevalent. These changes to the official rules were made to counteract the impact the federal ruling, which took effect on May 2003, might have had over the local industry. Cockfighting is still legal in the states of Louisiana, New Mexico and Oklahoma and the territories of Puerto Rico, the U.S. Virgin Islands and Guam.
"People are coming from overseas, many from Cuba, and buying land to raise their own Puerto Rican prized fighters here. So this industry is actually bringing investment to the island. Our world-class roosters are staying on the island, cementing Puerto Rico's place among the top breeders," said Quiñones. "Also, more and more women are also joining the league. There are currently 18 female cockfight ring administrators, and even more are becoming judges."
Even the Humane Society of Puerto Rico isn't bothering them much anymore. They've made sure that everyone knows that they are setting equals against each other and have strict regulations when it comes to the spurs that are being used. So, if you can stomach the blood and you hanker for some violent macho vibe, try one of our galleras for a look at one of Puerto Rican culture's less-known facets.
This weekend you'll get your chance at some major championship rooster battles. This Sunday, April 10th, at the Coliseo Gallístico in Morovis, from 11 a.m. on, The Mayor's Cup will take place. Here, several mayors from all over the island will bring their prized roosters to fight for the Golden Cup. This should be a sight to behold, plus the gallera is air conditioned, well-kept and has a bar and a restaurant, as well as gaming machines and billiards for those who prefer to bet on innate combatants.
Where to go
Now that you're all riled up and ready to see capons draw blood and sinew, here are some popular spots to go for some fiery gander action. The most touristy is the one in Isla Verde, although those in the "Primera Especial" category, which pay a special license to stay open all week, exhibit some of the best-looking roosters on the island and offer a peek at the authentic local practice, plus some much-needed air conditioning. Be aware though, that the crowd is mostly middle-aged men with a penchant for bloodthirsty action. Not for the faint of heart and certainly not the place to take the kids.
Club Gallístico de Puerto Rico Inc. (Geared toward tourists and general public)
6600 Isla Verde Ave, Carolina
Tel: (787) 791-1557
Club Gallístico de San Juan
PR-1, Río Piedras
Tel: (787) 720-6426
Club Gallístico de Arecibo
PR-2, Km 2 Hm 5
(Behind the Cementery), Hatillo,
Telefono: (787) 898-3295
Coliseo Gallístico Mar Chiquita
PR-686, Km 4 Hm2
Boquillas Ward, Manati
Tels: (787) 854-2525, (787) 649-8700
Gallera Las Palmas
PR-2, Km 13 Hm 8
Hato Tejas Ward, Bayamon
Tel: (787) 613-0367
Coliseo Gallístico de Morovis
PR-619, Km 0 Hm 5
Montellanos Ward, Morovis
Tels: (787) 862-1399, (787) 862-5069
Gallera La Nueva Cialeña
13 Munoz Rivera St., Ciales
Tel: (787) 871-5206
Club Gallístico de Isabela
Agustín R. Calero Avenue, Km 3 Hm 5, Isabela
Tel: (787) 896-8176
For more information, call the Office of Cockfighting Affairs of the local Sports and Recreation Department at 787-728-2511.
Brenda A. Mari is an editor/reporter for The San Juan Star, an accomplished web copywriter and a fan of everything unusual. She can be reached at bamari@yahoo.com