Esta página no está disponible en español.
MIAMI HERALD
Ex-Menudo Member Is In His `Elements'
Former Menudo member Angelo Garcia discusses life after the Spanish boy band craze, his new Kendall gym and his new album.
BY IDY FERNANDEZ
January 30, 2005
Copyright © 2005 MIAMI HERALD. All rights reserved.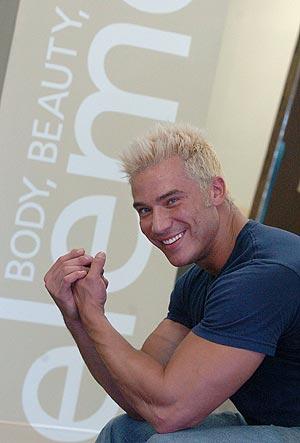 Angelo Garcia. DONNA E. NATALE/HERALD STAFF
Angelo Garcia still remembers the sea of screaming and swooning girls, who filled the arenas or clawed for a piece of his clothing whenever he made his way through an airport.
The former Menudo member rode the wave of the Latin-American boy band craze in the late 1980s and '90s, strutting his 11-year-old stuff on stage and belting out those high notes alongside the likes of Ricky Martin. But these days it's more likely to spot a buff Garcia walking his miniature Doberman pincher Rex on the streets of SoBe than surrounded by frenzied prepubescent girls.
For now anyway -- since the 26-year-old is leading a post-Menudo life that includes recently opening a new women's gym in Kendall and working on a new solo album.
''I wanted to explore my other interests and still do something I was passionate about that could make a difference,'' Garcia said of the new gym.
Garcia and friend Chris Palumbo opened the first Elements gym earlier this month and the two plan to open at least five more in South Florida.
The gym's concept is based on circuit training where members work out for 30 minutes, using about 18 different machines that each work out at least two muscle groups, Garcia said. Members are also put on a diet plan that fits their goals and health needs.
''I love the idea of making more of a lasting difference in people's lives,'' said Garcia, who is a certified personal trainer and sometimes pops in at the gym to coach a client or two. ``The difference you make with music is a bit more superficial, this is more hands on so you develop relationships and see the impact you help make.''
The gym is designed for folks with busy lifestyles, he said, and kept small to create a feeling of intimacy.
The next gym, which Garcia hopes to open in about six months in either Coral Gables or South Beach, will be bigger and trendier for those with more laid-back schedules.
The plan is to include a relaxation and massage room as well as yoga at the larger venue in addition to the basic Elements' concept, he said.
Garcia is also working with producers on his third solo album since leaving Menudo when he was 15.
When he left the group, Garcia had success on his own but it was limited to the Latin-American and European markets, he said. This time around he hopes to cross over into the states with an album penned by him that combines rock, pop and hip-hop beats.
Garcia says he hopes to release the album sometime next year and though he's worked hard to shed the boy band image, he doesn't regret his Menudo days.
''I want to have the creative control I didn't have when I was younger,'' he said. ``Menudo is a part of me, but it's not all me. I want this album to be an extention of who I am now.''
Garcia, a native New Yorker, barely spoke Spanish when he auditioned for a spot in Menudo after seeing a TV commercial in Puerto Rico during a family vacation.
In the course of one week, Garcia was signed to the group, recorded an album with the band and was put on stage before thousands of wild girls.
''My experience was limited to school plays and that was my first time being on a stage in front of a live audience,'' Garcia said. 'I got scared and forgot the words to my song so I played it off and said `sing with me.' I did that for like the first few weeks and until the stage fright went away.''
He went on to record four multiplatinum albums with the group before leaving to finish high school in New York and taking a break, Garcia said.
Then while in high school Garcia was signed by Warner Brothers Records in Mexico and recorded a Spanish solo album called Angelo.
For about two years he toured with Mexican stars like Paulina Rubio and Thalia and then recorded another Spanish album this time with East West Records in Germany called Cariño Presumido.
Both albums went gold, and Garcia moved to Orlando where he earned a communications degree at the University of Central Florida before heading back to New York.
There came the interest in fitness, and after befriending Palumbo at a few fitness conferences, came the move to Miami and the gym franchise.
''I'm proud of the work I did then and the work I'm doing now,'' Garcia said, ``but rather than fame and riches my biggest priority is to be happy and maybe make a difference in someone's life along the way.''